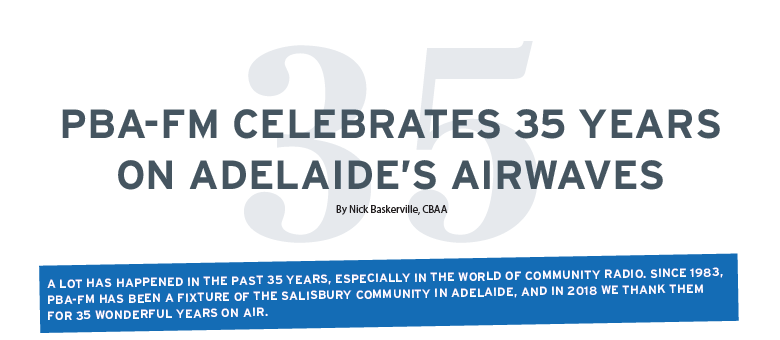 The station was officially opened as 5PBA in 1983 by Dr Lynn Arnold, the state member for Salisbury who went on to become the state's premier.
Since then, PBA-FM has been proud to broadcast programs that represent the variety of different cultural and community groups that make up the Salisbury community. Their current schedule features 13 different non-English speaking programs.
As well as culturally and ethnically diverse programming, PBA-FM has a great partnership with the TWELVE25 Youth Enterprise Centre run by the City of Salisbury Council, who they joined forces with in 2007 to share workspaces. TWELVE25 is a program designed for young people to engage with their community in a positive and safe way. One way they do this is through a training program and pathway for TWELVE25 participants to make radio with the station.
As such, PBA-FM has a unique environment where youth from the enterprise centre can interact and work closely with many of the station's most experienced volunteers, some of which have been working at the station for the entire 35 year tenure – and are now in their 80s! PBA-FM fosters an environment where all volunteers learn from each other, no matter what their age, gender or background.
This year, PBA-FM formed even closer ties with the Salisbury community as it took part in the Salisbury Writers' Festival, run in conjunction with the City of Salisbury and Writers SA. In attendance were representatives from PBA-FM's program Words Out Loud. The program features tips for writers, book reviews and interviews with local South Australian authors. This year the broadcasters launched their new initiative Well Versed – a poetic celebration and competition, whereby poetry submissions will be judged and aired on PBA-FM during the Salisbury Secret Garden.
Many who have worked at the station over the years have had long and successful radio careers, including current Triple J breakfast announcer Liam Stapleton. PBA-FM is always on the lookout for more volunteers, with a specific interest in getting more women involved at the station. To find out more, contact Sherina on (08) 8250 3735 or email pbafm@pbafm.org.au
Article Source –  CBAA CBX Magazine November 2018 edition
---